Be on your guard against yet another Facebook scam, this time exploiting the tragic death of comic actor Robin Williams.
The scam, which you may see shared by your Facebook friends oblivious to the fact that they are helping fraudsters earn money, claims to be a ghoulish video of Robin Williams making his last phone call before committing suicide earlier this week.
Of course, you might be fooled into believing it is genuine. After all, you have seen one of your Facebook friends share it on their wall.
But the truth is that they have been duped into sharing it by a simple social engineering trick, and you would be wise not to fall into the same trap.
The first thing you see is a post made by one of your Facebook friends: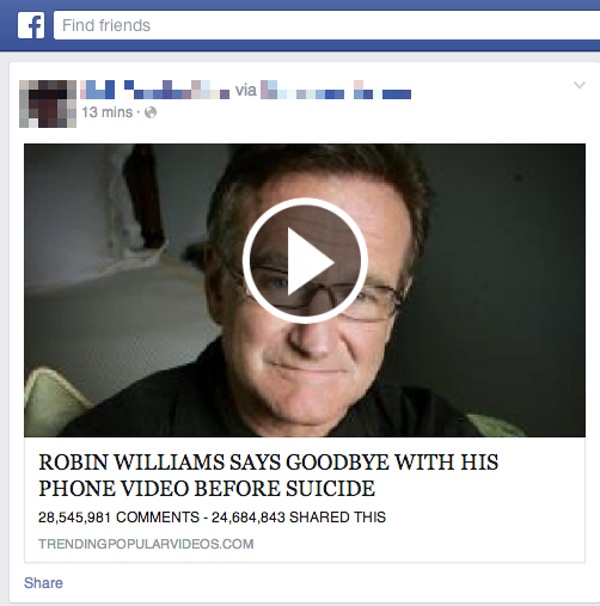 ROBIN WILLIAMS SAYS GOODBYE WITH HIS PHONE VIDEO BEFORE SUICIDE
If you click on the link you are taken to a third-party website, which claims to have a phone video made by the award-winning comedian in the minutes before his death: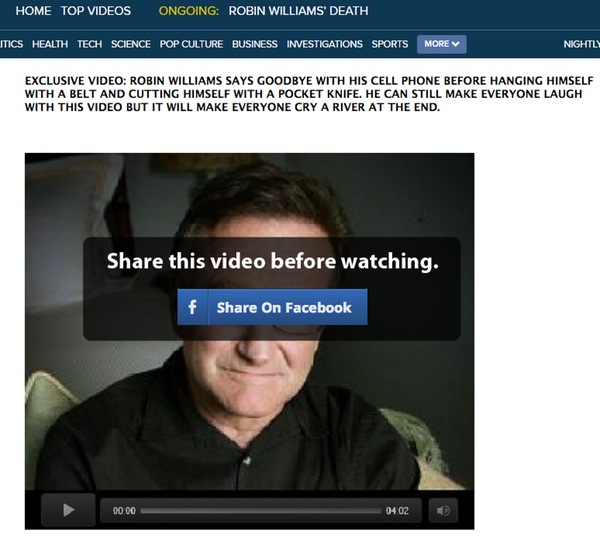 EXCLUSIVE VIDEO: ROBIN WILLIAMS SAYS GOODBYE WITH HIS CELL PHONE BEFORE HANGING HIMSELF WITH A BELT AND CUTTING HIMSELF WITH A POCKET KNIFE. HE CAN STILL MAKE EVERYONE LAUGH WITH THIS VIDEO BUT IT WILL MAKE EVERYONE CRY A RIVER AT THE END.
You would have to be pretty ghoulish to proceed any further, but the truth is that the internet has deadened our sensitivities and made many of us all too willing to watch unpleasant things on our computer screens.
However, the truth is also that no such video is known to exist, and if you click to watch it you will be told that you have to share the link on your Facebook wall - encouraging your friends and family to go through the same process that you have - and ordered to complete an online survey before you may watch the footage.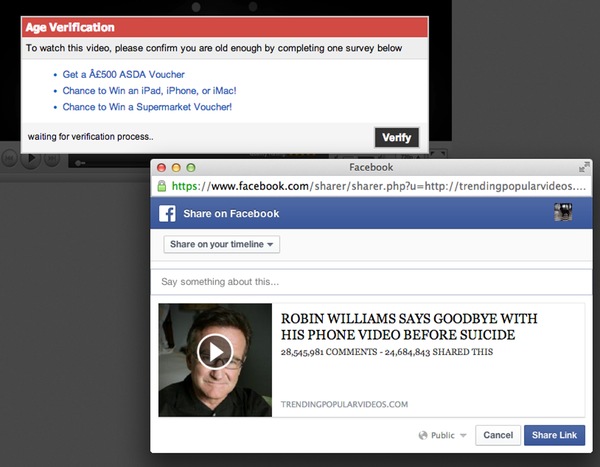 And that's the point of the scam.
By tricking thousands of people into taking a survey, in the misbelief that they will watch the final moments of a comedy legend whose life ended tragically, the scammers aim to make affiliate cash.
Because every survey that is taken earns them some cents - and the more people they can drive towards the survey (even if they use the bait of a celebrity death video), the more money will end up in their pockets. In other cases, scammers have used such tricks to install malware or sign users up for expensive premium rate mobile phone services.
The scammers have no qualms about exploiting the death of a famous actor and comedian to earn their cash, and give no thought whatsoever to the distressed family he must have left behind.
Always be extremely wary about what links you click on on social networks, and never Share or Like something before you have seen it for yourself, and decided whether it warrants sharing with your online friends.
Because you might not just be putting yourself at risk, you could also be endangering your friends and family.