How would you feel if a stranger was not only listening to your private voicemail messages, but then taking the information they gleaned from them and using it to write lurid, invasive news stories designed to sell tabloid newspapers?
My guess is that you would feel pretty wretched.
And yet, that's an activity which some British newspapers engaged in for years in their rabid hunt forever-more salacious scoops and exclusives.
The activities of Rupert Murdoch's News of the World in this area are well documented, and eventually resulted in the imprisonment of senior staff and the eventual closure of the newspaper entirely.
But you would be mistaken to think that only the disgraced News of the World was embroiled in the hacking of phone voicemail systems.
For instance, right now celebrity phone hacking victims are suing Mirror Group Newspapers (MGN), the publishers of the Daily Mirror, Sunday Mirror and Sunday People, for damages.
And the testimonies of the public figures, describing the impact that phone hacking by Mirror journalists had on their lives, makes for uncomfortable reading.
Shobna Gulati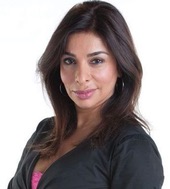 Former Coronation Street soap star Shobna Gulati, for instance, broke down in tears as she described how her son was bullied at school and ran away from home after Sunday Mirror journalists published that she was considering going on the reality TV show "I'm a Celebrity, get me out of here!".
The Sunday Mirror journalists also published a front-page story that speculated on the identity of the father of Gulati's son - something she says that she had never spoken publicly about.
"I had just left my job at Coronation Street. I was in a very unsure position. Also my mother had been seriously ill that year. Given that I'm a lone parent, my son was concerned about who would look after him if I was to go into the jungle."
The actress claims that she had never been offered a trip to the jungle with the reality show, but had joked about the possibility on voicemails she had left.
"This is personal information. It was extremely private... The thing that affected me most deeply and caused me most pain and trauma – and it still does to this day – is the fact that I'm still unsure as to how much of my personal life was listened to by faceless, nameless folk who I may have talked to while sitting at the Pride of Britain awards... It still leaves me feeling slightly empty inside."
MGN has admitted publishing at least seven articles about Shobna Gulati between 2003-2006 as a result of phone hacking.
Paul Gascoigne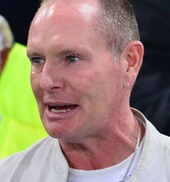 Former England footballer Paul Gascoigne has had a long and public battle with alcohol addiction. For a decade, between 2000 and 2010, he is said to have been targeted by MGN journalists who saw the former star's fall from grace as ideal copy for their newspapers.
During this period he says he suffered extreme paranoia, changing his mobile phone five times a month and spending tens of thousands of pounds on counter-surveillance technology.
The phone hacking by Mirror Group Newspapers was, says Gascoigne, "horrendous" and caused him to contemplate suicide.
Such was his fear of having his private conversations spied upon, the former footballer claimed in the High Court that he was "scared to speak to anybody" on the phone.
And all of this intrusion on his private communications was taking place while he was undergoing treatment for depression, obsessive compulsive disorder, suicidal thoughts and other mental health issues.
As has often been the case with phone hacking victims, those targeted often believe that it is someone close to them (a member of the family or romantic partner) who has betrayed their confidence, and sold details of their private life to the media.
Gascoigne says he refused to speak to some members of his family for two years, and has recently apologised to his stepdaughter Bianca, for wrongly suspecting her of betraying his confidence.
MGN has admitted publishing at least 18 articles about Paul Gascoigne as a result of phone hacking.
"I was scared to speak to anybody... my parents, my family and kids, it was just horrendous. And people can't understand why I became an alcoholic."

"It is very sad to me that a lot of damage has already been done to my family that cannot easily be fixed... My apologising to them now cannot turn back the clock for things I have said to them and the hurt that this has caused."
MGN has admitted publishing 17 articles about Lucy Benjamin between 2000-2006 as a result of phone hacking.
Steve McFadden and Lucy Benjamin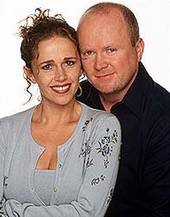 EastEnders co-stars Steve McFadden and Lucy Benjamin weren't just romantically linked on the screen of one of Britain's most popular soap operas, they were also dating in real life.
And that made them especially interesting to the tabloid press.
McFadden, famous for playing hardman Phil Mitchell in the soap, says articles written after his phone was hacked "destroyed" his relationship with Lucy Benjamin.
McFadden says he was considering proposing to his co-star, "but the biggest factor that stopped me was thinking that Lucy had a big mouth".
In other words, he thought that it must be her who was leaking information to the Mirror journalists.
"All the articles in the Mirror's newspapers that were constantly being published about us made me suspect Lucy. I thought she was shouting her mouth off. Now of course I know it was nothing like this and it was the Mirror's journalists stealing information from our phones."

"Apart from our relationship, the Mirror articles also had a really profound effect on Lucy's career and how she felt as a person."
MGN has admitted publishing 17 articles about Lucy Benjamin between 2000-2006 as a result of phone hacking.
Shane Richie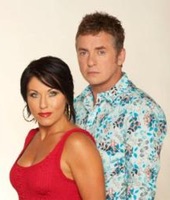 It must have felt like there were few actors on the set of EastEnders who trusted eachother, as actor Shane Richie also suffered at the hands of phone hacking MGN journalists.
Richie, who plays cheeky cockney scamp Alfie Moon in the soap, told the High Court that he stopped speaking to co-star Wallace, who plays Kat Moon, for two years, believing that she had been leaking stories to the press.
"After a while, me and Jessie didn't speak for five years because she didn't trust me and I didn't trust her because we both thought we were selling each other down the river with stories, which it turned out of course wasn't true"
Meanwhile, other cast members were told "Don't say anything to Shane Richie because he's 'gobby', he talks to the press".
According to Richie, some of his fellow cast members began to believe that their dressing rooms might be bugged and they became "pretty paranoid and suspicious of each other which was a horrible feeling".
MGN has admitted publishing 12 articles about Shane Richie between 2003-2005 as a result of phone hacking.
"Unlawful, unacceptable and wrong"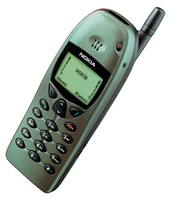 It's not always easy to read news stories of celebrities moaning about their lot. Often they are privileged and well paid for the jobs that they do.
But you would have to be heartless not to feel for the victims when reading the stories about how their lives were damaged by greedy newspapers that hacked their voicemails. And, don't forget, it wasn't just the stars who were hurt - but their innocent friends, family and loved ones who also suffered.
The impact of these hacks will be felt for many years and, in some cases, may never be properly repaired.
In all, eight phone-hacking victims are suing Mirror Group Newspapers for damages, seeking some compensation for the the impact that phone hacking had on their personal and professional lives.
MGN, for its part, published an apology last month for the hacks which, it says, were "unlawful, unacceptable and wrong". The company has already settled a number of other phone-hacking claims from celebrities.
Let's hope that justice is served, and journalists never again feel it is acceptable to break into private voicemails to feed their newspaper's hunger for celebrity tittle-tattle.