Are you the kind of person who natters in front of the TV?
Even if you're not providing your sofa-sharer with a running commentary on the latest shenanigans in "Game of Thrones", or wondering aloud how you are going to plough your way through to the end of your "Battlestar Galactica" boxset, chances are that you've often had a private natter on the telephone while the television is burbling away.
What you may not have realised is that your internet-enabled Samsung Smart TV could be listening to everything you say, and sharing it with third parties.
The issue flared up on Reddit late last week, when one commenter posted a message linking to Samsung's privacy policy.
Here is the section of the Samsung privacy policy which has raised some ire: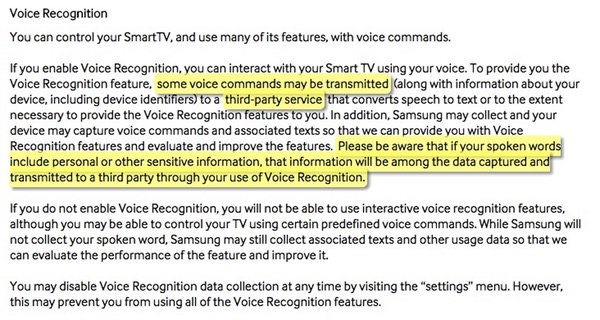 To provide you the Voice Recognition feature, some voice commands may be transmitted (along with information about your device, including device identifiers) to a third-party service that converts speech to text or to the extent necessary to provide the Voice Recognition features to you. In addition, Samsung may collect and your device may capture voice commands and associated texts so that we can provide you with Voice Recognition features and evaluate and improve the features. Please be aware that if your spoken words include personal or other sensitive information, that information will be among the data captured and transmitted to a third party through your use of Voice Recognition.
In short - turn off voice recognition and pick up the remote control instead if you don't feel comfortable with the privacy issues or, as would be my personal case, you find the entire concept of a voice-activated television daft.
Naturally, some have been alarmed by the discovery.
Take this tweet, for instance, by EFF activist Parker Higgins which compares the Samsung privacy policy to a section from George Orwell's classic novel, 1984: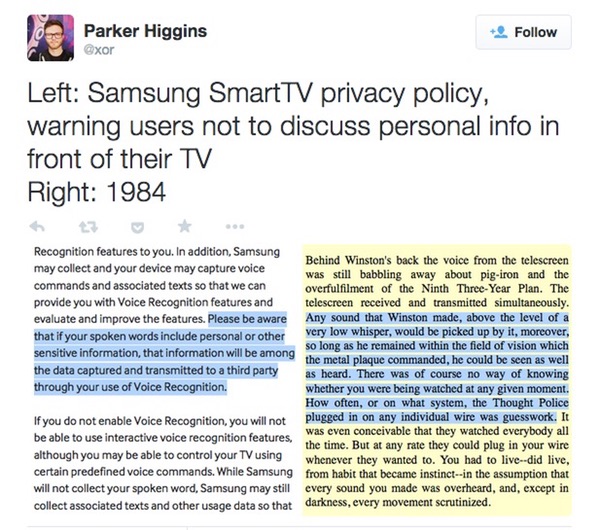 In Samsung's defence, it's tricky to see how they might perform voice recognition well without sending some of the data off to internet servers for processing, and it's not a shock to hear that it might use third party specialists to do some of that work for them.
So it's not that surprising a thing to see in Samsung's privacy policy, seeing as it provides voice control on some of its Smart TVs. And I'm not at all surprised to see Samsung's legal team insist that there is a section in the policy saying the firm cannot be held responsible if a third party is careless with the data:
"Please note that when you watch a video or access applications or content provided by a third-party, that provider may collect or receive information about your SmartTV (e.g., its IP address and device identifiers), the requested transaction (e.g., your request to buy or rent the video), and your use of the application or service. Samsung is not responsible for these providers' privacy or security practices. You should exercise caution and review the privacy statements applicable to the third-party websites and services you use."
Of course, hardly anyone reads privacy policies until there is a scare... and it's seldom on your list of things to do when deciding between one television manufacturer and another.
Samsung told The Daily Beast, that it worked hard to secure users' private information:
"In all of our Smart TVs we employ industry-standard security safeguards and practices, including data encryption, to secure consumers' personal information and prevent unauthorized collection or use."
Samsung isn't, of course, the only TV manufacturer to find itself criticised for snooping on its customers. Back in 2013, LG found themselves in hot water after it was revealed their smart TVs were collecting information about what programs users were watching, regardless of whether users had disabled the option in system settings.
And chillingly, researchers explained at the Blackhat conference in the same year how they were able to turn on the camera built into some Samsung TVs, take control of embedded social media apps, posting information on the users' behalf and accessing files.
If you don't want your Samsung Smart TV to record what you're saying, you'll have to go deep into its system settings and ensure that Voice Recognition is disabled. However, what are you supposed to do if you are visiting a friend's house, or happen to find yourself chatting away in front of a display of expensive televisions in a department store?
In a world of increasingly ubiquitous internet-enabled gadgets, maybe the only fool-proof answer is to simply stop talking if you value your privacy.